Oinktastic Fun!
With 14 themed areas each lovingly created from the hit animation series, we will bring to life the world of Peppa Pig and spark the imagination of your little piggies.  Jump, laugh, play, imagine and giggle!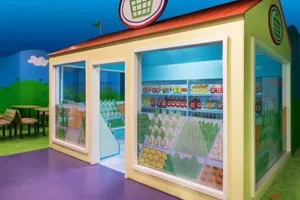 During Your Visit
Children aged 8 or younger can visit with their family (which must include a responsible adult over 18 years of age).  Everyone will need a ticket which you can buy here on our website.  No adults visiting on their own will be admitted.
Your ticket will allow for two hours of play time and we recommend you arrive 15 minutes before the time (which will be printed on your tickets).
For hygiene and safety reasons, please bring children's non-slip socks as they'll need to remove their shoes in some of the play areas. Get ready for plenty of snort, giggles and jumping up and down!
Have you checked our Rules of Play? View them here!