July 1 - August 13
Hours vary. Check website for hours of operation
Tickets starting at $32.99 (event included with admission)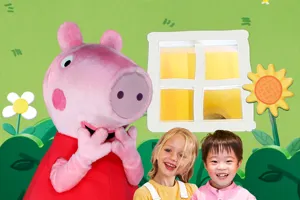 Join Peppa for sunny summer fun!
Whether planning a return visit, or getting ready for your first adventure, summer is the perfect time to visit Peppa Pig World of Play.
There are so many summer activities as well as lots of Peppa themed fun!
- Meet Peppa and help her discover the souvenirs to her favorite places. There are clues hidden all around the attraction.
- There is also your very own Peppa Pig World of Play postcard for when you have completed the trail!
- Take home specially themed Activity Sheets
- Enjoy some quiet time in the theater and watch a summery selection of Peppa-sodes
- Capture the memory with a themed Family Photo
Dates: Saturday, July 1st - Sunday, August 13th