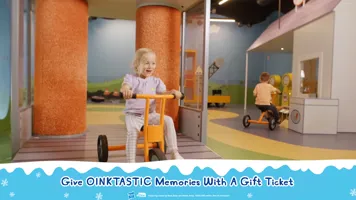 Give the Gift of OINKTASTIC Fun & Save!
Save $5 right now on Gift Tickets - the perfect gift for the little ones in your life!
Unlike our General Admission tickets, you do not need to pick a time and date to visit — the recipients just hop into the "I have tickets" line when they arrive with their gift tickets in-hand!
Blackout dates apply. Check our complete hours online before use. Must be used within six months of purchase.
For a full year of fun, purchase an Annual Pass!
Frequently Asked Questions
Gift tickets must be used within six months of purchase. Blackout dates apply.
No. Adults must be accompanied by at least one child 8-years-old or younger in the group to enter Peppa Pig World of Play.
Individuals ages 1 and older require a Gift Ticket to enter. Children under the age of 1 are free and will be admitted with the rest of the group.
No, you do not need to make a reservation before using your gift tickets.
Yes. Please click here for a list of Blackout Dates.
The recipients may choose which attraction they visit first — SEA LIFE Aquarium, LEGOLAND® Discovery Center, or Peppa Pig World of Play depending on which combo you purchase— and then they can visit the other attraction(s) on the same day or within the next 30 days. Be sure to check each attraction's hours of operation online in advance.
Yes. You do not need to be present for the recipients to use their Gift Tickets.